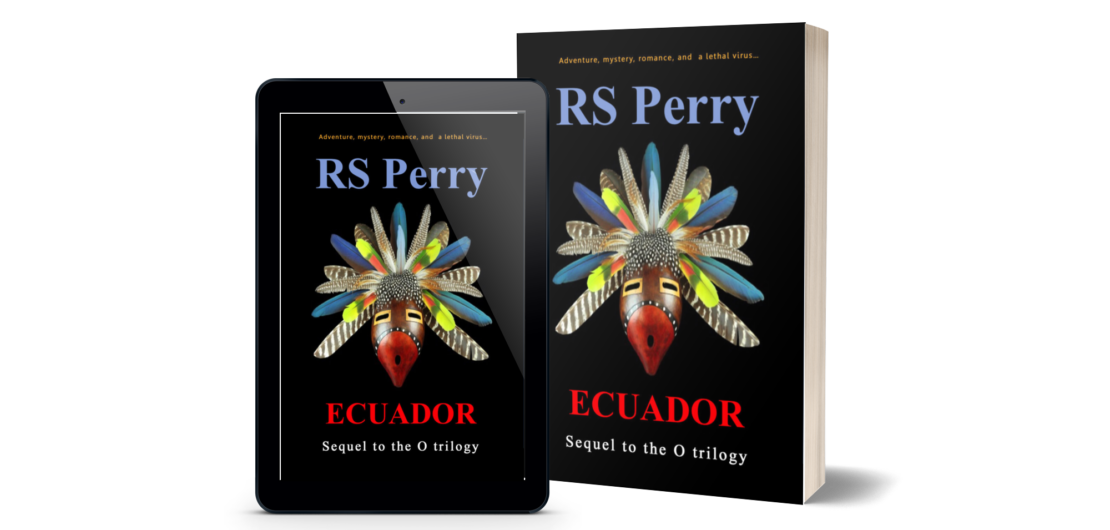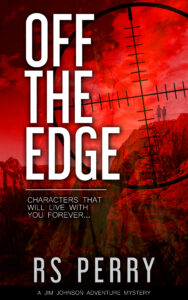 OFF THE EDGE by RS Perry
Exciting firsts book in the Jim Johnson mystery adventure series. Astrobiologist rancher and Vietnam veteran Jim Johnson now works as a special government agent with his longtime friend Brush. Both attached to a biological counterterrorist  group. They have had several difficult missions over many years, which they have carried out in their own very individual way. Returning from one of these, they are both looking forward to a llama-packing trip, with friends, in the Pasayten Wilderness, northeast of Seattle on the Canadian border. Their idyllic time is cut short, however, as they are recalled to deal with a possible terrorist threat. A dangerous antibiotic resistant bacterium has been set loose in the University of Washington medical school. How can its deadly spread be stopped and what is the connection with the deaths of some horse packers in the Pasayten Wilderness and a mysterious group of Middle Easterners? The mystery unfolds as we are introduced to the General, a tough combat commander with a medical degree, his research staff and the kindly, brilliant and self-effacing professor J.T and a team of scientists. The tension builds as all strands of the story develop in parallel, events in the Pasayten, centering on Jim's girlfriend Heather, the spread of the bacteria and the plans of Farasie and his group of terrorist, which includes the sexy and sadistic Najma. We discover that the attacks are not linked and Nusmen, a frustrated loner and originator of the bacteria, is conscripted to find its cure. Meanwhile Farasie has put plans in place for a large scale attack on Seattle. It is Labor Day weekend and the Bumbershoot festival is also in full swing, enough activity to divert attention away from him and his group. But where is his target? The festival? The Space Needle? He has laid his plans meticulously but Jim is on his trail along with a unique group of Special Forces attached to the State Department. Sometimes hindered rather than helped by the FBI, the Special Forces team has more in common with Jim and Brush. There is plenty of action including shoot outs, attacks during the Bumbershoot Festival, car chases and even helicopter chases as Jim closes in on Farasie and we finally discover that the main target for the terrorist attack is the large Convention Centre overhanging the freeway in downtown Seattle. Excitement, tension and mystery run throughout, heightened by the many twists and turns in the plot. As the devious and double crossing Farasie is determined to make his millions, Jim has to make difficult choices, not only operational but also personal. How can he atone for the deaths of the two girls that haunt his memory because of a long ago mistake in Vietnam? How can they stop Farasie without terrifying the whole population of Seattle? And how can he rescue Heather, who has a deathly fear of heights, when it means a leap off the edge? The chase continues back to mountains where Farasie, Najma, Jim, Heather and Brush, confront each other. All these strands are interwoven as Jim is familiar with the different worlds of science and academia, backwoodsman ship, military and survival tactics and lateral thinking. They are brought to life by a number of interesting characters; Ray and Wayne, old time ranchers, Dr Banks, an MIT professor, Old Man Shuskin, a vagrant who lives in the woods, Neilly, a Special Forces team leader, and Sheilla, a whiz FBI analyst. And while a satisfying conclusion is reached, there are still tempting avenues to explore in later books.
Read Excerpt                Purchase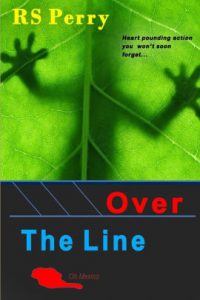 OVER THE LINE by RS Perry
"Wow, what a ride! Loved the roller coaster from Mexico drug cartels, over the line into Arizona with the military across the pond in a private jet to posh Chelsea in London with computer fraudsters. Then you bring them all together in a story of very human characters and their fight to separate good and evil…" Ken Leate
Special agent and scientist Jim Johnson who is with a biological counterterrorist team is under threat and this time it's personal. London businessman Amir and the ruthless psychopath Najma are both out for revenge. They want to destroy him by any means possible and Najma aims to use the most important person in Jim's life, his lover Heather.
But both are linked to a savage and brutal drugs cartel whose suave and intelligent leader is involved in a multi-million dollar computer fraud. Their machinations could harm the governments of Mexico, the United States and Great Britain.
At first alone, Jim eventually enlists the help of his friends in the military and his partner Brush. The twists and turns in this brain-teasing and thrilling adventure follow them as using their skill, experience and the latest in warfare technology, they attempt to outwit the villains. But will Jim be able to save Heather and her colleagues and will he eventually be forced over the line?
Read excerpt                  Purchase                    Reviews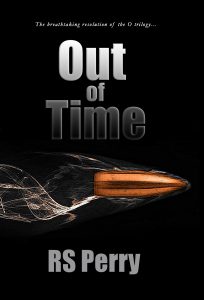 OUT OF TIME by RS Perry
The third in the Jim Johnson adventure book series.
"Is this the end? Surely not. I have enjoyed reading this trilogy more than I thought I would as it is not my usual genre. However the exciting storyline and intriguing characterization had me hooked and I couldn't wait to read this last one. Out of Time is just as exciting as the other two but delves more into the relationships and psychology of the characters, which makes it more interesting to me and also more of a puzzle. The ending is complex and not all the ends are tied up, which makes me think…maybe there will be more. I do hope so.
Having said that, I do think that you could read this book with pleasure without having read the other two. It is exciting and informative and tells you a lot about the North West of America, it's geography and geology, about science, helicopters, ballistics, the US forces and CIA and much more and it is all tied up in a really good, absorbing story. Thoroughly recommended."
"A real page turner start to finish, Out of Time satisfies on so many levels. Insightful characterisations, a wealth of knowledge about all things scientific and military, and an insider's knowledge of the area around Twisp and the Pasayten Wilderness, all combine to make the story come alive and leap off the page. Whilst initially struggling with any violence in the earlier Jim Johnson novels, like Heather, one of the characters in the book, I found myself starting to understand that these 'not very nice' characters do exist in the world, and that this necessitates the response of heroes such as the biological counterterrorist team: Jim, Brush, Will, Glenda et al. Having devoured this book at lightning speed, I am now eagerly awaiting my next adrenalin dose from Perry's pen. What will the next episode bring? I can't wait."
Read excerpt                    Purchase
The fourth in the Jim Johnson adventure book series…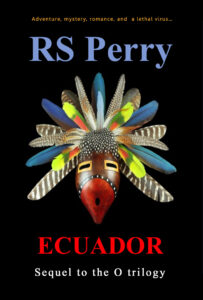 ECUADOR by RS Perry 
A lethal virus – an insidious plot- who will stop the virus pandemic? Rebels and indigenous people join in the high stakes battle against a deadly virus amidst political intrigue, romance, and adventure. Spine-tingling sequel to the O trilogy. A kidnapping in the Amazon leads Jim, Brush, Glenda , and Neilly tracking the a resurgence of the worlds greatest killer virus from Rio to Bogota and back to the Amazon. Nusmen makes a friend with a headhunter shaman.  Who will survive?
The long-awaited sequel to the O Trilogy – high stake battles, political intrigue, mystery, kidnapping, suspense, and romance as old friends and new, chase a lethal virus hatched in an insidious plot. From Rio to the Amazon, Quito to Bogotá, familiar characters, like old shoes, walk us through a kaleidoscope of adventure:  Nusmen, Old Man Shuskin, Sheilla and, of course, Jim, Brush, and Glenda. A team of some of the world's best hackers and researchers from the secret laboratory in Washington State support multiple hair-raising missions. Colombian rebels with unexpected charm link up to aid Jim's  secret biological counterterrorist team. Throughout, Colonel Johnson battles himself and his past while attempting to blend his professional life with a normal homelife for his family. In Jim's absence, Heather oversees their remote ranch with starlit skies, glass apples, and dangerous predators, while their young son Pedro attempts to fit into a white America. A shock ending lurks along the dark edges of the story and finally comes to light in its last pages.
Read excerpt                   Purchase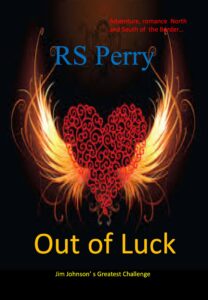 Out Of Luck by RS Perry
The fifth in the Jim Johnson Adventure book series. Jim has to search deep within himself for solace after a tragedy. It's Christmas at Wolf Canyon Ranch, but Jim doesn't plan to stay as he struggles with his feelings for the ones he loves. But before he can set out on his pilgrimage he is forced to go to survivalist Idaho, on what could prove to be his final mission.  At the same time Glenda Rose Stuart leads an investigation to Marseille, France; where she has to employ all the skills she learned as a FBI investigator as well as those learned in a firefight in Ecuador's Amazon.
Available Fall 2020