Image of Horseshoe Basin, Pasayten Wilderness
I'm curious about RS Perry books, their order, the characters, the author—–
Curious about RS Perry and what happened – a sequel to a trilogy? Were the first three books mischaracterized as a trilogy? – The O Trilogy. Trilogies have a final conclusion, don't they? That's the end. A done deal. Finito. I'm curious about RS Perry- his intentions. The next book – Ecuador – while sounding nothing like the first three, all starting with an "O,"  it continues with many of the characters found in the first three books. Of course, new characters are both "born" and "perish" along the way. As we become friends with them and as the series characters become vivid in our minds, it is sad when they are no longer with us. After seeing a fragile "glass apple" hanging delicately from a tree,  a young boy is told by Heather that images will always remain in his mind.  This is true in real life; our friends and family remain in our thoughts, and we see images of them, and remember them, even when we are apart or they are no longer part of this world. Some of the reality of RS Perry's books is how the characters mature, learn to understand themselves and others, fall in love, survive and sadly, on occasion, die.
Book series in order:
Off The Edge
Over The Line
Out of Time
Ecuador
Nemesis
Remilious release date March 2023
 An Unforgettable Cast of Characters – "and unexpected events which sometimes leave you gasping. Some of the action is violent and cruel, especially when carried out nonchalantly by the sociopath Najma. But the unusual thing for a book in this genre is that you really care what happens to the characters. Jim and Heather, Brush and Glenda, Nusmen, Glenda and all the other characters are not stereotypes but people you feel you could meet and get to know. Even the evil Najma is complex and interesting. There are times when  you feel as though you are in the room with them, observing and listening like a gecko on a wall. Read the book –Over The Line -or the excerpt to get the reference! If you like mysteries or adventures or crime or action or romance filled with characters that become your friends, begin by reading the first in the first in the series, the unforgettable Off The Edge."
Who is the Author –RS Perry has always had many interests. One college advisor accused him of having a lack of focus.  With that in mind, he decided focusing on multiple topics was a good idea, not what the advisor had in mind and he pursued a self designed undergraduate degree that encompassed three departments; Astronomy, Earth sciences, and Molecular Biology, which before the genetic revolution was known as Microbiology and Virology. The combination with Oceanography and Space Engineering are mixed in, with his three undergraduate "focuses" have become known as Astrobiology. He later received a PhD from the University of Washington in Earth Sciences along with a NASA certification in Astrobiology. Curious to understand the world combined with his love of nature, he has explored many of the the Earth's wild places. He has been privileged by being invited by friends to take part in diving to the depths of the Pacific Ocean in the deep submersible Alvin, sailing across the Atlantic in a small sailboat (at 52 feet not the tiniest sailboat), climbing mountains in Washington State, the Himalayas and the Andes, visiting deserts in the Mexico, the US, the Sahara, and the driest the Atacama, Chile along with some of the wettest, the Amazon, Borneo and South East Asia. He learned to fly to be able to get over the Cascade Mountains from his ranch to Seattle. He started Off The Edge while hiking in the Pasayten Wilderness along the Canadian Border.
Later in life, he continued to pursue science but became equally interested in education. While at Imperial College London, where he remains,  he founded an education charity – the Space Science Engineering Foundation.
Dr Perry has always loved books, art, and movies. He loves to tell fact based stories. Besides many science articles, he writes scripts and is a member of the WGA – the Writers Guild of America West.
Photos – The author pictured from the beginning to… – Collecting samples from a New Zealand hot spring, flying lesson for Huckleberry in Piper Seneca with, at Everest North Basecamp with Tibetan friends, llama packing in the Pasayten Wilderness. Below – with Natalie Boll filming in Vancouver, B.C. Above – Well used trail across a lupin meadow in Horseshoe Basin, Pasayten Wilderness.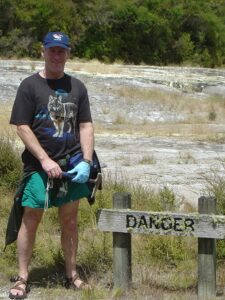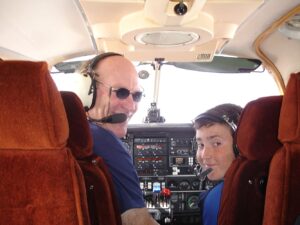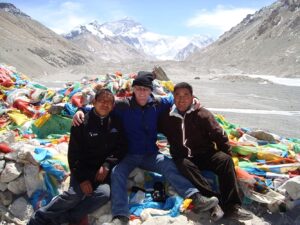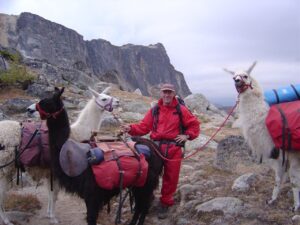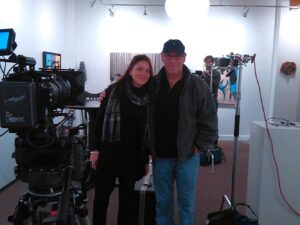 RS Perry Media – RS Perry works as a company media director and producer with  Athene Films, a documentary, TV, and video internet company. He is a member of the  Writers Guild of America West. Other media information as shown on IMDb.
He is currently working on a script for Space Games, a feature movie based on the UK Space Design Competition . Four students from a council flat area in southeast London enter the UK Space Design competition to design a space settlement set seventy years in the future. They struggle against all odds in their dream to travel to America to compete in the international finals against some of the brightest students from around the world.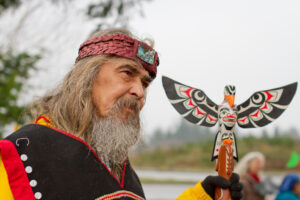 Photo left, Beau Dick from Meet Beau Dick "Maker of Monsters"
RS Perry Art – Creating paintings and books brings joy. He has produced several art works, mostly painting and wall constructions.  RS Perry art and writing as shown in Vanda art pages, 231-240. Vanda project  6th edition "Flux".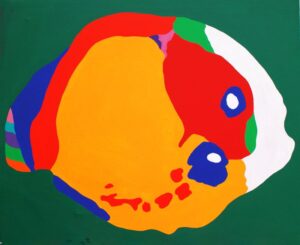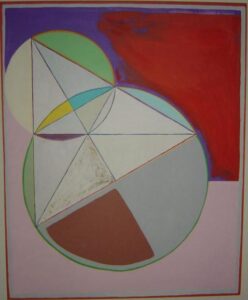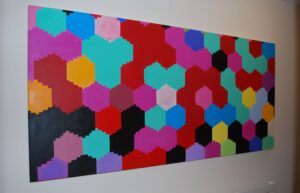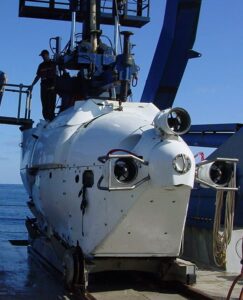 RS Perry Science – Dr Perry has a long and varied interest in Science, mostly in the fields of Biology, Molecular Biology, Chemistry, and Earth and Planetary Sciences.  After receiving his degrees from the University of Washington. He has done research at Oldenburg University, Scripts Institute, and at White Mountain Research Center. He is emeritus research investigator at the Planetary Science Institute in Tucson, Arizona. He held a National Science Foundation Fellowship to Oxford University and a Royal Society Fellowship to Imperial College London where he remains on academic staff in the Earth Science and Engineering Department. If you are curious to know more? Read the full biography.                                          
Photo above, RS leaving Alvin deep submersible after dive on Axial volcano 200 miles west of Vancouver Island.