"I liked this book a lot. It is a real page turner; I couldn't wait to see what happened next and the action is exciting with plenty of unexpected events which sometimes make you gasp. Some of the action stuns you, especially when carried out nonchalantly by evil Najma, but the unusual thing about a book in this genre is that you care what happens to the characters. Jim, Heather, Brush and Glenda and their friends are not stereotypes but people you feel you could meet and get to know. Even Najma is complex and interesting and so is Guillermo and his many employees. The plot is complex but communicated clearly, with three strands woven together. The action moves between Northern USA, London and Mexico and you get a real sense of all these places through the vivid and detailed descriptions. The different worlds of the drug cartels, the military, the scientists and the computer experts are also brought alive and you feel you are in the room with them, observing and listening like a gecko on the wall. Read the book to get the reference! If you like mysteries or adventures or crime or action or romance or just a good yarn, this book is for you. Buy it."
More readers comments and reviews for the O Trilogy and RS Perry's adventure books with secret biological agent Jim Johnson. Click here for Amazon US and Amazon UK or  RS Perry's Amazon author page.  Read an excerpt
"Is this the end? Surely not. I have enjoyed reading this trilogy more than I thought I would as it is not my usual genre. However the exciting storyline and intriguing characterization had me hooked and I couldn't wait to read this last one. Out of Time is just as exciting as the other two but delves more into the relationships and psychology of the characters, which makes it more interesting to me and also more of a puzzle. The ending is complex and not all the ends are tied up, which makes me think…maybe there will be more. I do hope so.
Having said that, I do think that you could read this book with pleasure without having read the other two. It is exciting and informative and tells you a lot about the North West of America, it's geography and geology, about science, helicopters, ballistics, the US forces and CIA and much more and it is all tied up in a really good, absorbing story. Thoroughly recommended."
This is a good read, and I recommend it without hesitation. The insight into minds of the characters excites me.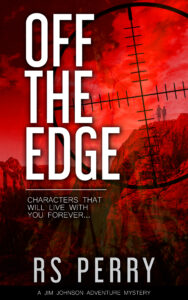 Click on company logo below to Purchase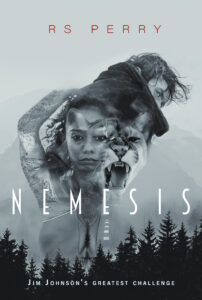 Nemesis by RS Perry
This, the fifth in the Jim Johnson adventure novels, finds Jim recovering from wounds inflicted by his nemesis, Najma. Searching deep within himself, Jim attempts to find solace after personal tragedy. It's Christmas at Wolf Canyon Ranch, but Jim doesn't plan to stay at the beloved home he has designed and built. Instead, he plans to embark on a quest for retribution against his arch rival. Wounded and wild, Najma continues to elude her pursuers. A cruel and cunning psychopath, she only cares about the final face-off with Jim. An inhuman killer, she remains unconcerned with all the lives she destroys along her savage path. Is Najma a deluded dreamer in love with a fantasy? Or is she simply trying to even the score for her treatment as a child? Is she enamored of Jim, of dominion, or of death?  In what could prove to be his last mission, Jim leads a massive search for the devil lady – La serpiente.
More readers comments and reviews for RS Perry's Jim Johnson adventure novels. The first in the O Trilogy series of Jim Johnson Novels. The first in the RS Perry's adventure books.  Click here for Amazon US or Amazon UK or RS Perry's Amazon author page. Other vendors below.