RS Perry worked as a company director and producer with Athene Films, a documentary, TV and video internet company. He is currently a member of the  Writers Guild of America West. Other media information as shown on IMDb.
Recent project:
Chief Beau Dick master carver.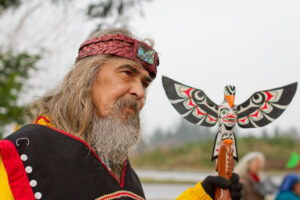 Athene Films' feature length documentary titled Maker of Monsters, featuring the life of Canadian rebel and renowned indigenous artist Beau Dick . The film is about the life, art and social causes of hereditary chief Beau Dick, Kwakwaka'wakw master carver.  The film appeared in the Vancouver film festival and has a new web site.
The film shows Beau in ceremonies in Alert Bay , B.C. and supporting causes that he cared deeply about from protecting wild salmon to reconciliation between all people of Canada and the 'Namgis peoples, a First Nations band within the larger Kwakwaka'wakw nation of northern Vancouver Island. Sadly Beau Dick died in March, 2017.
RS Perry is currently working on a script for Space Games. A feature movie with the UK Space Design Competition set as the backdrop. Four students from a council flat area in southeast London enter a competition designing a space settlement set seventy years in the future on the surface of Mercury. They struggle against all odds in their dream to travel to America and compete in the international finals against some of the brightest students from around the world.